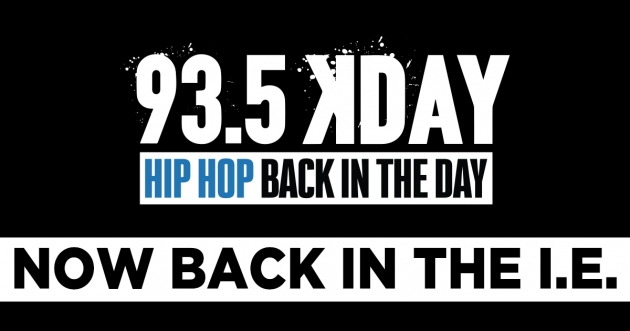 FOR IMMEDIATE RELEASE
October 30, 2017
Contact:
Drew Escobar
[email protected]
(818) 953-4200
BACK BY POPULAR DEMAND!
90's HIP HOP RETURNS TO RIVERSIDE/SAN BERNARDINO
93.5 KDAY HIP HOP…BACK IN THE DAY Extends Reach with Simulcast on 93.5 KDEY
(Los Angeles) Meruelo Media has announced that 93.5 KDAY Hip Hop Back in the Day will simulcast on 93.5 KDEY-FM in the Inland Empire effective immediately.  This will extend 93.5 KDAY's signal and coverage to the Riverside and San Bernardino counties.
Meruelo Radio Vice President Programming, Jimmy Steal said, "We're pleased to bring 93.5 KDAY, Hip Hop Back in the Day, back to the Inland Empire."
Meruelo Media President Otto Padron added, "With 93.5 KDAY's increased reach and focus on 90's Hip Hop Back in the Day and Power 106 #1 for Hip Hop, the newly super-sized and expanded Meruelo Radio merger efficiently and effectively reaches hip hop fans of all ages!"
In addition to extended signal reach, 93.5 KDAY has posted a highly targeted outdoor campaign and a launched a refreshed digital platform.  The Meruelo Media consolidation has provided 93.5 KDAY with additional resources, including an extended social media and digital team.
The greater Los Angeles area may listen to 93.5 KDAY via its free streaming app or by visiting www.935KDAY.com
93.5 KDAY and 93.5 KDEY are owned by Meruelo Media, the largest minority-owned broadcaster in California.
Listen online at http://player.listenlive.co/35791
Listen through Tunein at https://tunein.com/radio/935-KDAY-s32724/
Download the 93.5 KDAY app to listen on the go: Google Play