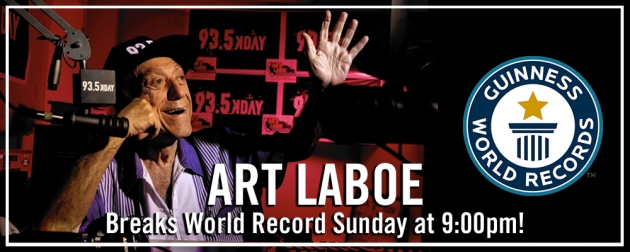 September 20, 2017
For Immediate Release
Andrew Escobar
Office:  818-953-4200
Fax: 818-846-4106
Art Laboe to break Guinness World Record! Celebrating 74 Consecutive Years on Radio!
(93.5 KDAY-FM, Los Angeles) Radio legend, Art Laboe, will begin his 75th consecutive year on the radio this Sunday, September 24, 2017. He will break the Guinness World Record for the longest career as a radio presenter/ DJ this Sunday as he kicks off his 75th year on-air.   Laboe' s professional career began at KSAN/San Francisco on September 23rd, 1943. Art was inducted in the NATIONAL RADIO HALL OF FAME in 2012 and received a star on the HOLLYWOOD WALK OF FAME in the category of radio in 1981.
"ART LABOE is an LA legend like VIN SCULLY and CHICK HEARN … his work and brand are truly synonymous with LA's music history and culture," said, Meruelo Media President, Otto Padron. "It is an honor to have him as a part of our Meruelo Radio Family."
The record breaking feat can be heard live on the ART LABOE SUNDAY SPECIAL immediately following Sunday's Raider's football broadcast on 93.5 KDAY-FM at 9pm PST on SEPTEMBER 24th on 93.5 KDAY-FM, online at 935KDAY.com, or KDAY's free streaming app 93.5KDAY.
Laboe said, "I have one of the best jobs in the world, playing the music, interacting with our listeners, doing their dedications and connecting them with their loved ones!  Thank you to our dedicated fans that have listened through the decades and made THE ART LABOE CONNECTION a family tradition. And thank you to the promoters we work with on our concerts and to our many friends and colleagues at our many radio stations that have aired and currently air THE ART LABOE CONNECTION."
ART LABOE and 93.5 KDAY are scheduled to present the 7th Annual CHICANO SOUL LEGENDS concert on SATURDAY, DECEMBER 2nd, 2017 at HONDA CENTER ANAHEIM, then he hosts a 2nd Annual concert on JANUARY 20th, 2018 at SPA RESORT CASINO PALM SPRINGS and will be a GUINNESS WORLD RECORDS™ holder as he embarks on his 75th year on the radio.