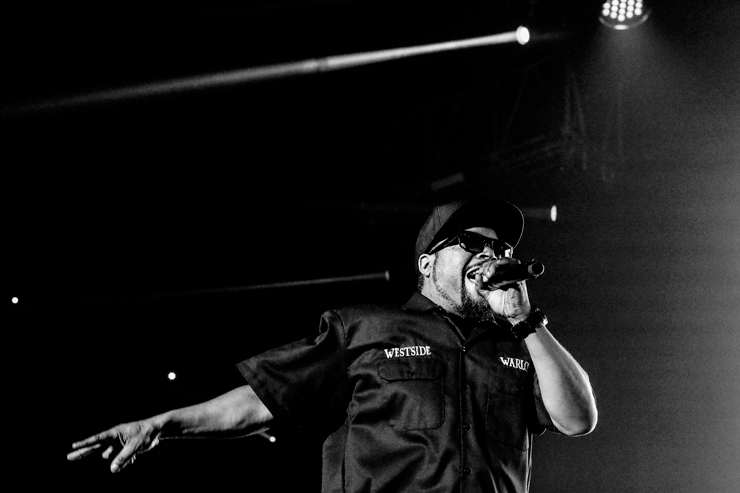 Krush Groove was a 90's party like no other. From 2nd II None to Ice Cube, the biggest concert in the West Coast had everything.
DJ Stones kicked it off at the Bud Lite Festival Stage, later on came Romeo of the KDAY Morning Show with his band, Mass Appeal. Following that
G Mode, Paper Boy and Mellow Man Ace made their appearances known at the festival.
The crowd got their groove on to DJ SMS' mixing, I'll tell you that. Not only did listeners have good food, family games and merch to pick from, they did it all to the beat of the West Coast.
As the crowd geared up to enter the arena, one would be welcomed by Naythan2It's mixing followed by The Native taking the stage. 2nd II None came after showing the crowd what Compton is all about. KDAY Morning Show DJ, DJ Demo did his thing and dapped it up with Stix to get him on the main stage.
The big homie Kurupt performed his classics! He then brought out Daz Dillinger to form Tha Dogg Pound reunion on stage! The crowd was hyped and for a good reason, they're legends on this coast. It truly left no one wondering "What Would U Do?" because everyone was two-stepping and waving their hands in the air.
Warren G was honored for his contributions to the rap game by 93.5 KDAY and Power 106, the plaque was presented by Romeo of the KDAY Morning Show and J Ellis. It was a special moment for the legendary Long Beach artist. While all of this was going down, DJ Quik was getting ready to blow the roof off the place. Walking the red carpet and talking with Romeo was taking place backstage, followed by signing the Krush Groove artist board.
Quik's appearance was historic! He threw money at the crowd while performing his classic bangers, all of this with the DJ set Noah Ayala had set up. Method Man & Redman were introduced by the one-and-only, PJ Butta! You know they put on one heck of a show, always keeping it lively and they managed to set the perfect mood for when Bone Thugs-n-Harmony came out to perform. It may have not been the "1st of tha Month" but they caught you at a "Crossroads" with every single tune.
Then came the moment the crowd had been waiting for. The anticipation was real as Romeo, Cece and J Cruz helped bring out Ice Cube!
The West Coast warlord was in full effect, starting off his set with "It Was a Good Day", the 90's vibes were real!
Not only that but he managed to bring WC of the Westside Connection to the The Forum!
it was everything the fans wanted and more. Nothing short of a stellar performance by all the acts, worthy of a place in the history books.